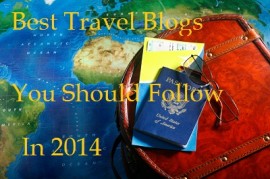 10 Best Travel Blogs You Should Read
For most people, especially baby boomers, life is just starting, post retirement, and there is so much of sun, fun and adventure waiting out there. If you do not know where to start or what to do, here is a short guideline for you from the best travel blogs so that you can travel like a pro after you have hit 50+. So here are the top 10 travel blogs for senior citizens who want to make traveling a part of their lives.
Travel Blogs you Must Read About:
Starting with one of the top baby boomer travel blogs on the net, http://myitchytravelfeet.com/ gives a lot of useful information for baby boomers who wish to travel. Donna L. Hull, the blogger along with her husband/photographer, Alan Hull have put everything they have seen and done in their website so that the fellow boomers will be fully prepared for their own travels. It's more than a travel blog; it's an inspirational site for those who think that being old is the end as it encourages them to try new things while traveling and to never say no to trying anything new.
Doris Gallan has been to more than 50 countries but still has a list of another 50 to go. She shares the passion for traveling   along with her husband Jacob Frank and you can subscribe to their "360 degrees of Travel" newsletter from their website http://www.babyboomerstraveling.com/ which can help you out on your own tours.
Barbara Weibel started traveling full time from 2009 after suffering from an illness. The illness which made her feel so low that she has named her travel website http://holeinthedonut.com/ which describes the way she felt before she started her travels. She stays up to a month in most countries so that she can soak up the culture to the fullest.
David and Veronica bring the fun home to the readers with their witty descriptions and enchanting photos. Their http://www.gypsynesters.com/ can be said to be the best travel blog when it comes to sharing the experiences online.
Tom Bartel and Kristin Henning Bartel share their momentous travel moments through http://travelpast50.com who have found that traveling actually makes them feel and act young. That's good news for all the other baby boomers who do not know what to do after retirement.
Evelyn Hannon has had a lot of fun since she started traveling 30 years ago and at 72, is still bitten by the travel bug. Check out her tips and guides for single women to travel safely around the world in http://www.journeywoman.com/.
Whether you are a solo traveler or not, Jennifer Huber has a lot of information on dining, good food and adventurous travel, which is sure to stimulate your travel senses. She has more than 20 years of experience in the travel business and has a lot to contribute in her website http://solotravelgirl.com/.
http://solotravelerblog.com/ by Janice Waugh is another must read travel writing for single travelers.
Blogs for the Avid Traveller
The travelling never stops for Donna Manz at http://www.neverstoptraveling.com/ where she can be seen travelling and planning to travel all around the globe.
Max Hartshorne knows how to travel and there is a little bit for everyone out there on his website http://gonomad.com/.
A Few Travel Tips from the Experts
Donna Hull suggests consulting http://www.selectregistry.com/ as they checked their 400 member Inns so that the traveller will never be disappointed with their choice.
Evelyn Hannon recommends leaving a note in the hotel room explaining where you are going in case you do not return as planned.
Jennifer prefers getting a room on the upper floor but never on the ground floor as then there is less chance of an intruder breaking into the room through the window.
Doris advises the traveller to take the train or the bus as it is cheaper than driving around and more relaxing.
Check out Barbara's travel packing list at http://holeinthedonut.com/2007/09/21/sufficiently-recovered/ to learn how to pack the essentials needed for your trips.
Related posts